Mathematics
In the teaching of mathematics we aim to provide a happy, secure and stimulating environment, which encourages every child to progress to the best of their ability and promotes a positive attitude towards mathematics in their everyday lives.
Units of work for each term are based on the five strands: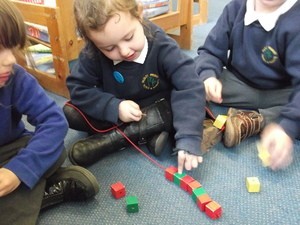 1. Numbers and the Number System
2. Calculations (please click here to see how we teach calculations by year group)
3. Solving Problems
4. Measures, Shape and Space
5. Handling Data
A variety of commercial and school prepared resources are used to help in the teaching of both Maths and Literacy.
Our organisation is based on the four key principles:
1. A daily lesson of between 45-60 minutes, consisting of three parts:
mental/oral starter
main activity
plenary
2. Direct teaching and interactive oral work with the whole class and groups
3. An emphasis on mental calculation
4. Work on a common mathematical theme but at different levels to suit the range of abilities of the children in the class