Year 1/2
Welcome to
Terrific Year 1/2
Learning in Year 1/2
For your child's final year in Key Stage 1, here at Pilsley Primary School we endeavour to continue to teach our pupils the skills they need to be good learners. We build on their strengths and support them in the areas they need to develop, always focussing on the positive and giving encouragement through praise and reward for good efforts.
Emphasis is put on practical experience with lots of opportunities to talk to each other about their learning, challenging children to push themselves further.
English
In English children have the opportunity to study fiction and non-fiction texts. Reading and interpreting theses texts through guided reading plays a large part in developing comprehension skills, eventually building on learning to produce their own texts.
We believe that children always show us their best writing when they experience what they are writing about so we try to give them as much experience outside the classroom as possible to develop their vocabulary.
Children are also encouraged to apply phonics and spelling knowledge to their writing, which is taught explicitly through daily phonics lessons, building on their knowledge of sounds to spell more complex, longer words.
Great emphasis is put on regular one-to-one reading, developing the children's interest in, and love of books as well as 'Reading Champions' from Y4/5 sharing books with us during reading time.
Quiet reading in our class library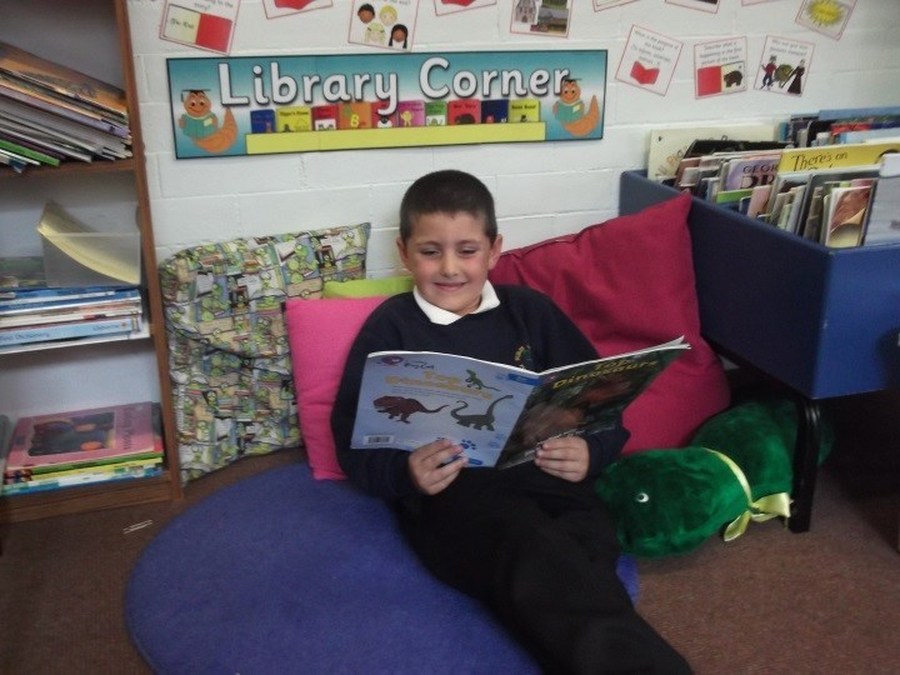 Maths
In Year 1/2 maths is still very much' hands on' giving children a wide variety of practical experience to ensure that new concepts are 'learned by doing'. These new concepts are then built on to develop children's mathematical investigative skills and to give them the ability to use these skills in everyday situations.
Science
Science in Year 1/2 is focussed on the development of knowledge and understanding of the Science topics through investigative work. Children are taught how to carry out a 'fair test' in order to prove or disprove their own theories. Skills in measuring, recording observations, presenting findings and making comparisons are developed to increase knowledge and understanding of the world around them.
Tasting fruit as part of our 'healthy eating' topic!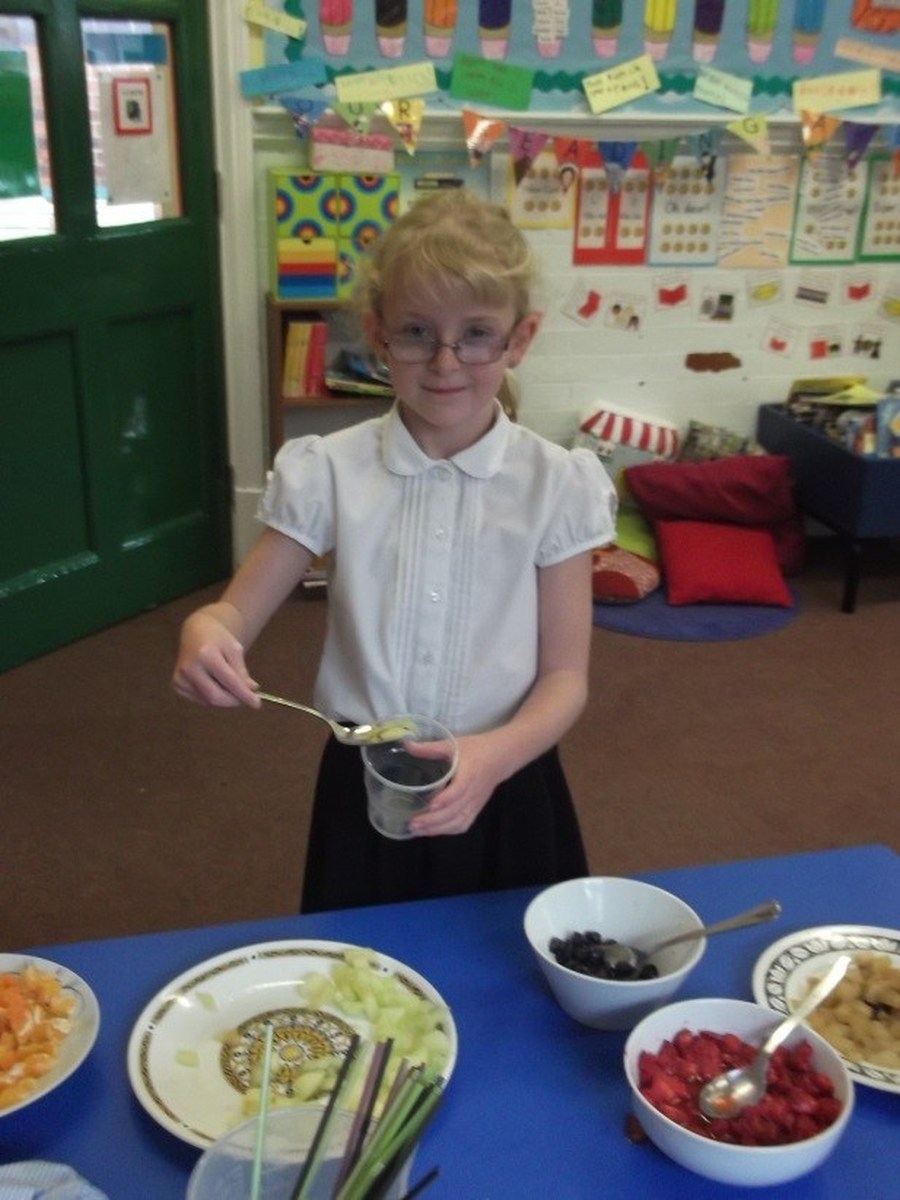 Other Curriculum Areas
We try, wherever possible, to link our topics of study across all curriculum areas, especially with English to give purpose to our writing. This allows our pupils to understand that all areas of their education have links with different aspects of their lives, now and in the future. We also see the importance of involving the pupils in their own communities to become active citizens by building relationships with local community groups.
Helping Your Child
As parents, we ask you to support your child by ensuring they complete their homework on time. We also ask that you listen to your child read, not only their home reading books but to also share any library books they may bring home from the class library. Talking with them about the characters, events and information they read will help to develop their understanding of the written word.
In Year 2 the children have weekly spellings which are practised every morning in class, as well as individual spelling lists which should be practiced at home daily.
Important Things to Remember
Reading at home and completing your homework on time are very important. Homework is given out on Fridays which must be handed in the following Monday.
Make sure your PE kit is in school every day and no earrings on PE days please.
Most important of all step into the classroom ready to learn, have fun, find out new things and always with a smile.
Mrs Jane Ebbage
INSPIRE RESPECT ACHIEVE