CEOP (Child Exploitation & Online Protection Centre) Safety Centre
The 'Click CEOP' button above has been developed to offer children, young people, parents/carers and professionals a simple and easy way of gaining access to a trusted online safety advice, help and support. It provides direct access to an online system for reporting known or suspected child sexual exploitation or child sexual abuse directly to the CEOP.
Online Safety and Social Media
We place great emphasis on understanding the safe use of the internet. However, as we all recognise, the internet holds pitfalls for all our children that they need to learn how to safely navigate. We at Pilsley Primary are dedicated to keeping our children as safe as possible by giving them the right skills and knowledge to make safe choices. To that end we regularly build in to the curriculum refreshers of what they should do in specific circumstances.
We use the resources set out below and the more experience the children have of these the greater their understanding.
http://www.saferinternet.org.uk/
https://www.saferinternet.org.uk/advice-centre/social-media-guides
Autumn Term
Every autumn term, our Year 5 and 6 classes complete internet safety work and take part in the i-vengers online safety programme. Once completed and passed they gain a certificate.
Spring Term
Every spring term our Year 5 and 6 classes continue their internet/ online safety work as part of the i-vengers programme and one of the tasks is for the children to come up with 12 top tips for internet safety for parents. Please click here to view the top tips.
Live Streaming
The National Online Safety Team have created a free guide for parents & carers to share about 'Live Streaming' – a growing trend amongst children and young people across the globe. Our guide is designed to inform parents and carers about the dangers of live streaming for their children and how they can help control the associated risks:
FREE GUIDE: https://twitter.com/natonlinesafety/status/1004385008562462722
Fortnite
Voice and text chat systems in the popular Fortnite game are leaving children open to being contacted by strangers, warns the NSPCC.
The warning comes after research by the charity suggested 25% of children had been contacted online by strangers.
It advised parents to turn off the voice chat system in the game to ensure children avoided inappropriate contact.
But the charity warned that the text messaging system in the game could not be disabled.
Options in the main settings menu in Fortnite did not let players block text messages sent to them, said the NSPCC.
It also advised parents to closely monitor the amount of money their children were spending through the game's online store, which lets keen players buy skins and other items to personalise their in-game avatar.
Fortnite is believed to have about 45 million registered players, with up to three million playing it at the same time.
One analytics site suggests that, on YouTube, it has surpassed Minecraft in terms of the popularity of videos showing people playing it.
Please visit http://www.bbc.co.uk/news/technology-43988210 for further information and guidance.
Guidance for schools and parents: https://www.besa.org.uk/news/what-schools-need-to-know-about-fortnite-battle-royale/
Roblox
The app 'Roblox' has very quickly become very popular with children in our school. Please be aware of an open chat room facility in the games. This is a site recommended for ages 8-18 although is also available to adults. There have been some reviews by parents published on Common Sense Media that have highlighted additional concerns. Use of this game and specifically the chat rooms/friend requests should be monitored closely by parents. Private chat does not have a filter system for the language used and this has been a problem where parents have reported inappropriate language. Please make absolutely sure when/if you sign your child up to this that you put the correct age of your child to ensure filters of content are age appropriate.
Pokemon
What is Pokémon Go? Please click HERE for further information.
Pokemon Go is an app enabling users to create and name a character and partake in an augmented (blending holograms with the real world) mobile version of the Pokemon game made popular through Nintendo.
Sharing nudes and semi-nudes/

Sexting
Sharing nudes is when someone sends a naked or semi-naked image or video to another person. Sharing nudes is sometimes called 'sexting', however this term is often used by young people to talk about sharing sexual messages and not imagery
The term 'sexting' is derived from texting and refers to the sending of sexually provocative material (including consensual and non-consensual sharing of nude and semi-nude images and/or videos and sexually explicit text) from modern communication devices or applications, such as mobile phones, tablets, email, social networking sites and instant messaging services.
Specifically 'sexting' is images or videos generated by children under the age of 18, or of children under the age of 18 that are of a sexual nature or are indecent.
A Parent's Guide – What to do and how to handle it.
Sexting: How to keep your child stay safe – NSPCC resource.
January 2016: The government has announced a package of measures to help keep children safe online. These include a guide to help parents keep their children safer online, content for social media and interactive service providers, updated content for parents/carers and new industry-led initiatives to help children become safer online.
Mobile Apps and Games
The NSPCC has asked 600 primary school children what information they needed to stay safe online. More than 80% said they needed to know more about privacy settings on mobile apps and games.
We would strongly recommend that you look at the revised 'Net Aware Guide' which keeps parents informed of issues around social media sites and online platforms popular with their children. 12 new sites have been added to NetAware which now has over 60 social networking sites, apps and games which children use.
We would also recommend using www.commonsensemedia.org which allows you to explore media by age, which uses a traffic light system for ease of use, informs parents what they need to know about the media in question and what the child can learn from the media.
Social Media
There has been much talk recently about both the benefits and the downsides to social media. This includes concerns not only over cyberbullying but also how children can keep themselves safe. With Primary aged children now having access to social media the school has added some guidance above to help you help your child.
Screen Addiction
Please see below poster for information and advice from National Online Safety Ltd regarding screen addiction.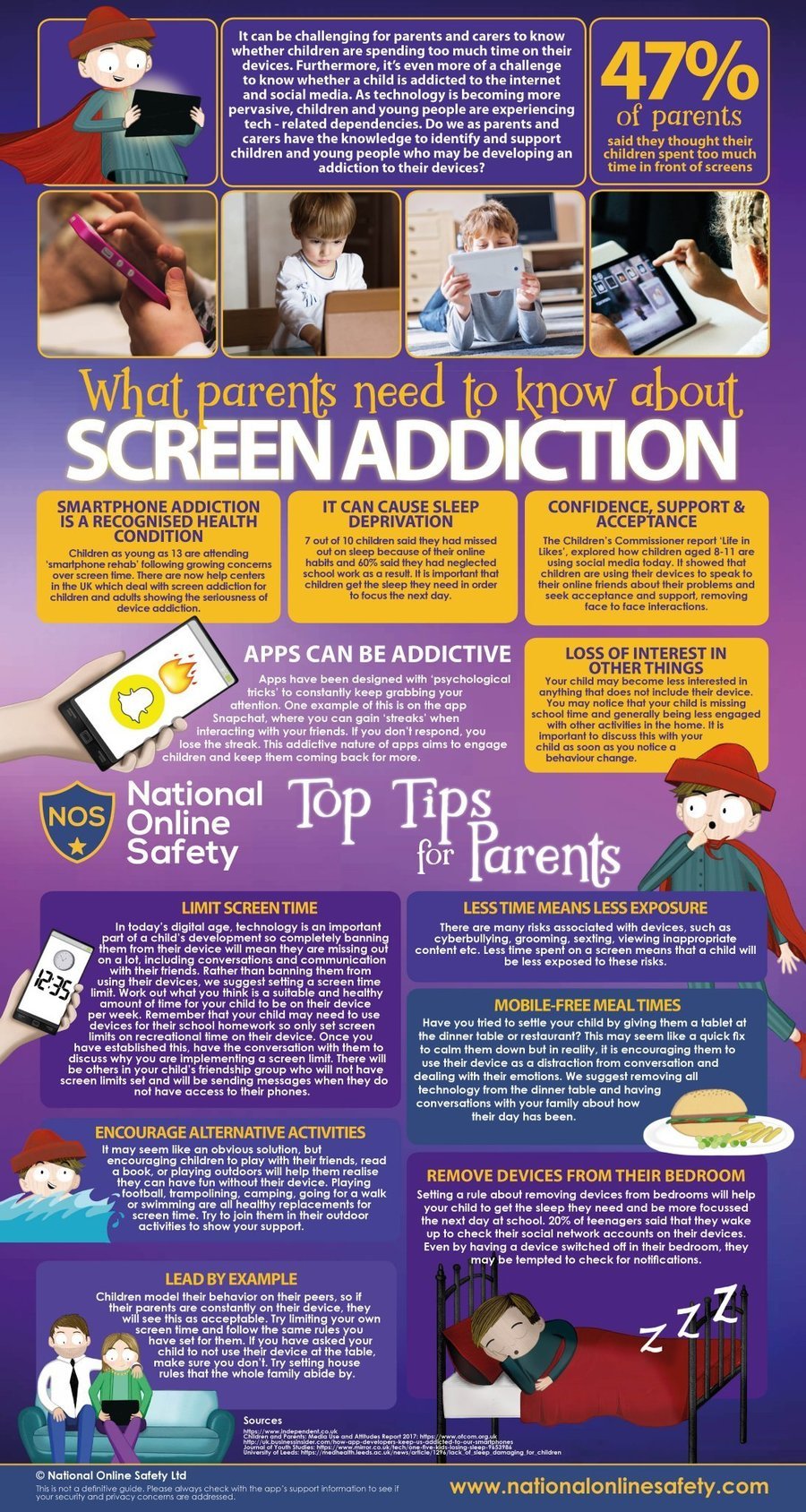 Please see below the National Online safety Guide for parents & carers regarding 'Playerunknown's Battlegrounds' (PUBG) – a game played by millions of children and young people worldwide. The guide is designed to inform parents and carers about the dangers and risks of letting their children play PUBG and how they can help keep their children safe online.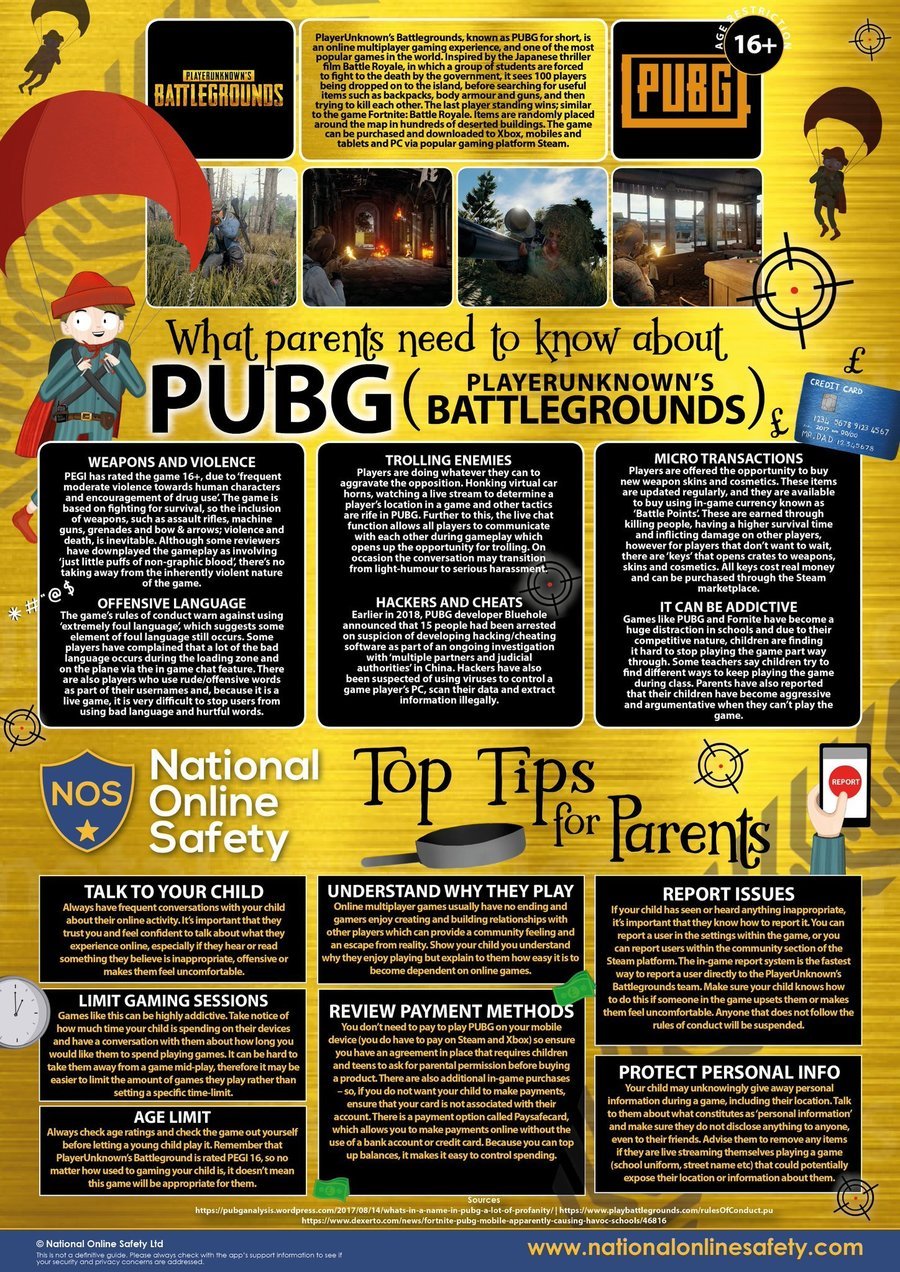 Finally . . . . .
The UK Safer Internet Centre have now produced and published various social media checklists. Please follow this link the view these Social Media Checklists - UK Safer Internet Centre.
The checklists cover everything professional, parents and young people need to know in order to manage information and stay safe online while using these services. The handy guides include advice on how to manage your privacy and control what and who you share information with, how to block and report, as well as how delete or deactivate an account.
Station Road, Chesterfield, Derbyshire, S45 8EU
01773 872378
info@pilsley-pri.derbyshire.sch.uk